Monday, April 2nd, 2012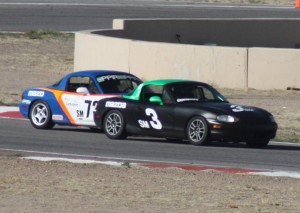 March 31 2012, the start of another season at PPIR with the double regional and driver school "Fools Rush In". Matthew brought out the new to him Spec Miata to see how he stacked up against the other more seasoned drivers in the class. The 80 degree weather was unseasonably warm for the end of March in Colorado. Bothe practice and qualifying went well with Matthew coming up to speed in the new car. Matthew qualified 2nd in class but was a little off the pace of Phil Cummings, regional SM champion, who had the poll. Looks like Matthew had his work cut out for him.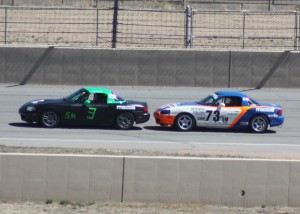 At the drop of the green flag Matthew locked himself to Phil's bumper and the race was on. In the first few laps Matthew stuck his nose in a few times but Phil closed the door. Matthew was able to stay within a few car lengths for the first half of the race until they caught a slower car. Phil was able to get around the lapped car on the straight but Matthew got stuck behind him in turn 1-2 which is the fastest, most on the edge corner of the track. Matthew got around the slower car on the exit of 2 but this had given Phil another 3-4 car lengths. Mathew tried but was unable to close the gap. Matthew came in with a respectable 2nd place finish.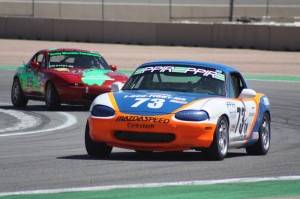 April 1, 2012 was another warm day. Matthew continued to learn the car in practice and qualifying. He was feeling more and more comfortable in the car and his times were getting better. This time he was only .5 off of Phil's pole setting time. When the green flag flew Matthew had a good start but was only able to pull up to Phil's door before diving into turn 1. Some traffic got in the mix and once it was sorted out Matthew was a few car lengths behind Phil. Not exactly where he wanted to be but Phil was still in sight. This time Mark Franklin, multiple divisional SM champion, was also only a few car lengths behind Matthew. Mark eventually caught Matthew and got passed him going into turn 5. Now Matthew locked in behind Mark in hopes that the 2 of them could catch up to Phil and then battle it out. A few laps later,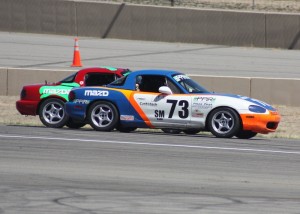 Phil had an incident with a Spec Racer Ford and spun in turn 2. Matthew and Mark passed him and both moved up a position. After a few more laps Matthew had a good drive out of turn 2 and moved down low to make the pass on Mark. Mark tried to close the door and Matthew dropped the front left wheel off the pavement. Matthew made the pass stick but unfortunately the dropped wheel caused a slow leak in the tire. Matthew's tire went flat 3 laps later and he had to retire from the race early. April fools on him.

Share on Facebook