Last Chance Rational – HPR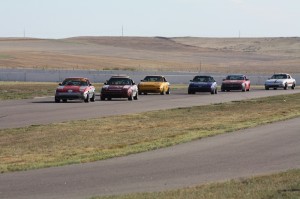 We got up early Saturday morning to make the trek to High Plains Raceway for the Last Chance Rationals. The temps are finally cooling down and it looked like it would be a great day. During practice and qualifying Matthew was running consistently faster than his competition. This was unexpected as Pat Holmes and Mark Miller where there and usually keep him on his toes.
At the drop of the green Pat was on his game and moved out to an early lead. Matthew was on his bumper but Pat was not going to make it easy on him.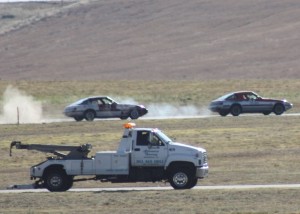 Matthew took a better line around turn 11 and he was able to carry his momentum and get by Pat going into the esess. Matthew put his head down to try to get away but Pat had a different plan. Pat stayed on his bumper and got a great draft going down the back straight and made the move for the pass. He went in to 4 a little too hot and Matthew was able to get by him before 5. Maybe now Matthew could pull a gap…..no such luck. Maybe on the exit of 11…. No, Pat figured that one out quick. The battle continued for 40 minutes. According to the lap charts they changed positions 11 time in 18 laps, not including the times they passed and re-passed on the same lap. Towards the end of the race Matthew made a mistake going through 11 and scrubbed off too much speed.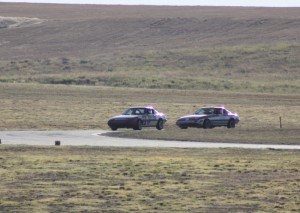 Pat capitalized on this and pulled a 5 car gap. As they came onto the front straight the 1 lap board was displayed. Throughout the race Matthew was thinking he wanted to be in 2 at this point so he could make the pass down the back straight but he didn't want to have this much of a gap. He pushed the car to its limits trying to make up as much ground as he could before turn 3. He did make up a lot of ground but didn't have quite enough to get the pass done without putting both Pat and himself in danger. As they both went around turn 4 Matthew thought, "I have been a little faster out of 6". As they quickly approached turn 6, the toughest corner on the track, Matthew backed off slightly so he would have a good run out of the corner. As they entered the corner Pat had a little push and Matthew used his better exit speed to pull up next to Pat.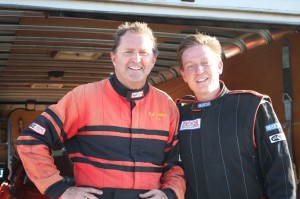 They went into turn 7 side by side. The next turn was turn 8 which was a left hander and would put Matthew on the outside. Fortunately for Matthew Pat was in the marbles on the outside of turn 7 and couldn't put the power down as well as Matthew. Matthew just got in front of Pat going into turn 8 and was able to make the pass stick. Matthew was able to keep it together for the rest of the lap and pull out the win. Thanks for the great, clean racing Pat.
Sunday Matthew was ready for another close race. He was again a good amount faster in practice and qualifying but he was not going to let this lull him into a false sense of security. At the start of the race Matthew got a slight jump but Pat was not giving any ground. They went side by side through 1, 2 and 3.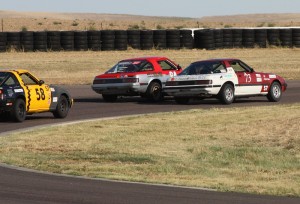 Mark used this to his advantage and went rocketing buy both of them down the back straight. Going into turn 5 it was Mark, Matthew, and Pat nose to tail. Mark hit some debris that was kicked onto track by one of the Miatas and slid sideways. This caused Matthew to pinch his entry and also slide sideways. They went through the corner looking like it was a drift event. They both gathered it up and continued like it was on purpose. Matthew got a good run coming out of turn 6 and Mark turned into turn 7 a little too late leaving the door open. They went side by side all the way through turn 8 where Matthew was able to get the edge and pull into the lead. On the next lap Matthew checked his mirror and saw Pat and Mark going side by side through turn 6. This battling allowed Matthew to pull a comfortable lead and maintain it until the finish.

Share on Facebook