Rock the Peak – PPIR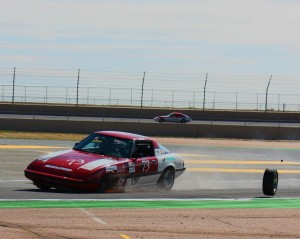 Saturday May 28th 2011. At PPIR for our 5th and 6th race of the season. The weekend started out rough when Matthew lost a wheel in practice. Jackie Ruegsegger quickly offered her spare rotor, bearings, and studs, Christian Miller had a dust cap for the rotor, Pat Holmes chipped in to replace the rotor and straighten the fender, and Clay Turner offered up his spare lug nuts. In no time the car was ready to go out for qualifying.
The first half of qualifying went smooth. About half way through Matthew's foot slipped off the break pedal going into turn 5 and he slid into a group of cones. Two of them must have wanted to go for a ride as they latched on under the car.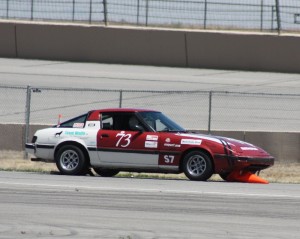 The first cone was deposited in the middle of turn 2 where Matthew immediately ran it over causing a wild sideways ride through the fastest corner of the track. The second one hung on almost to the end of the session where it finally had enough in turn 8 and decided to get off.
Matthew got a good start in the race and was off to an early lead. Clay Turner was giving chase for the first half of the race. He started to fall back and was then caught by Mark Miller, who had the drive of the race. Mark missed qualifying due to work obligations and had started from the back. He made it all the way to 2nd before he ran out of laps to chase Matthew down. Matthew took 1st followed by Mark in 2nd and Clay in 3rd.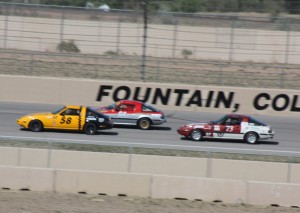 Sunday April 29th 2011 was a much smoother day. Practice and qualifying went well with no major incidents as the day before. Matthew and Pat switched cars in practice to shake out a handling issue Pat had been having. The two of them had made minor adjustments all weekend and the car was starting to feel like it should. In qualifying Mark ran a slightly better time than Matthew and was on the poll.
The race started and while Matthew got a good jump, Mark had the position and Pat had a better start. Matthew exited turn 2 in 3rd, the race was on. Matthew got by Pat going into 5 and was working on chasing Mark down. Matthew could pull on Mark in the infield but Marks car was strong on the front and back straight. Matthew made repeated attempts to get around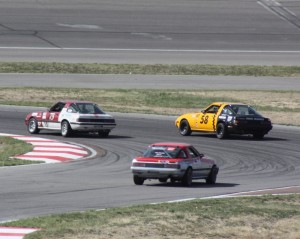 Mark in turn 9 but Mark would get a better launch having the preferred line and pass right back. About half way through the race Mark missed a shift which slowed both Mark and Matthew allowing Pat to rejoin the race. Going into turn 5 the next lap Pat made the pass for 2nd. This was how it was to stay until the checkered flag with Mark getting the win, Pat taking 2nd and Matthew coming in 3rd.

Share on Facebook