Its Miller Time – PMP
Back at Pueblo Motorsports Park July 24th 2010. We had a great time with all of our fellow racers and friends.  The Chief Steward decided there would be no split starts so the Spec 7 group was not able to start in a pack as we normally do. Matthew Wolfe had a great qualifying session and started on pole for Spec 7. Turn one was exciting as we went 3 wide and Matthew was on the outside of this madness. He held on and ended up with a very good track position. He was able to hold onto this and pull out the win.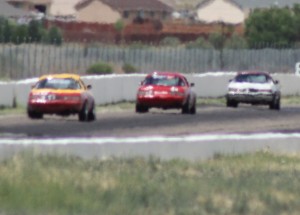 July 25th 2010 was our annual Enduro and Matthew teamed up with Rob Godby in Matthew's #73 car. The Chief Steward decided that there would be 3 scheduled 15min stops to give the workers a break. This essentially turned it into 3 sprint races. To keep things interesting the Spec 7 drivers decided that each team would have to perform 1 additional driver swap.
Rob took the first stent and got out to a great start taking the early lead. Realizing it was a long race and Clay Turner and Pat Holmes were running like it was a sprint race, Rob did not contest when they went in for a pass. Matthew and Rob perfo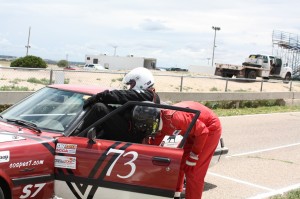 rmed their agreed upon driver change first to get it out of the way. Matthew came out of the pits and picked up the back of the Spec 7 pack, one lap down. Matthew was able to get around both Pat and then Clay after they had separate off track diversion. Pat went in for his pit shortly after, leaving Clay and Matthew battling. Clay was running strong and was able to get back around Matthew after he went to hot into turn 2. Matthew stayed in this position until the mandatory stop.
Rob went out after the stop still a lap down. He was able to regain the lap fairly quickly and  ran a flawless stent.  When Rob brought the  car in we were in second place and ready for the last stent.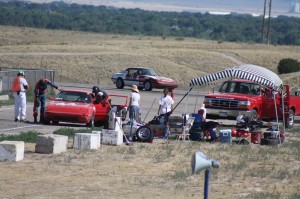 Matthew went out for the last stent and still had most of a lap to make up. With Clay 13 seconds behind him and trying to put him a lap down, Matthew put his head down and pushed the car to its limits. Clay finally went in for his agreed upon driver change with 10 minutes left in the race. This allowed Matthew to come around and pass them for the lead while they were in the pits. As Matthew did not know this had taken place he continued to run hard all the way to the checkered flag. When he pulled into the pits Rob and Wendy gave him the news that they had won.
Thanks to Rob Godby for teaming with us and running a great race.

Share on Facebook